The Charles A. Will Award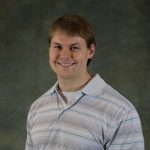 Congratulations to Andrew Langemeier!  Andrew is the 2016 recipient of the Charles A. Will Award!
This award, instituted in 1993, is named in honor of Charles A. Will who was instrumental in developing a formalized program for the professional home office underwriter.  He also authored the book "Does It Make Sense," a text that encapsulated the process of decision making for underwriters.
The recipient of the award is the new FALU with the highest aggregate score on all of the ALU exams.  The Charles A. Will Award recipient receives a larger version of the crystal globe that all new FALUs receive, a copy of Ross Morton's "Again, Does It Make Sense," and payment of his or her expenses (airfare, hotel and registration fee) for the annual AHOU conference where the international underwriting community will recognize his or her accomplishment.
Recipients of the Charles A. Will Award
1993 - John Custer, Metropolitan
1994 - Paula Mendonça, Financial Life of Canada
1995 - Elizabeth Watson, Crown Life
1996 - Lori Lown, Century Life of America
1997 - Kathy Richter, Minnesota Mutual Life
1998 - William Camm, M.D., AUL
1999 - Dennis Dickman, State Farm Life Insurance Company
2000 - Hsu (Jasmin)Huei Huang, Allianz Insurance Mgmt Asia Pacific
2001 - David Wright, GE Financial Assurance
2002 - Pat Brachmann, Munich American Re
2003 - Tom Gross, New York Life
2004 - Troy Delancey, Lincoln Benefit
2005 - Melissa Meier, Modern Woodmen of America
2006 - Keyongone Oh, Samsung Life Insurance Company
2007 - Sengdavone Sophasath, Empire Financial
2008 - Lisa Kay Claussen, Hartford Life
2009 - Yongfu Chen, China Pacific Life Insurance Company
2010 - Dong Yuxing, PICC Health Insurance Company
2011 - Xiaopeng Shen, Swiss Re
2012 - Daniel P. George, MD, Mass Mutual
2013 - Amy Rider, Optimum Re Insurance Company
2014 - Kelley Gieryn, Northwestern Mutual
2015 - Scott Carrigan, Federated Life Insurance Company
2016 - Andrew Langemeier, Assurity Life Insurance Company